---
Corpus Christi
Solemn Procession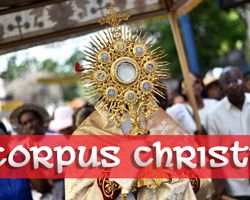 ANNUAL CORPUS CHRISTI PROCESSION
As has been the case for the past several years, St. Stanislaus, Bishop & Martyr Parish, will join with Corpus Christi Parish in the Broadway-Fillmore area, for the Annual Corpus Christi Procession through the streets of the neighborhood on the Solemnity of the Most Holy Body and Blood of Christ, Sunday, June 23rd beginning at 1:15 pm with the Exposition of the Blessed Sacrament at St. Stanislaus Church, with the Procession proceeding through the streets of the neighborhood to Corpus Christi for Benediction of the Blessed Sacrament.
The Procession will be led by the Most Reverent Richard Malone, Bishop of Buffalo.
All are welcome to come to honor Our Lord Jesus in the Blessed Sacrament though this beautiful public manifestation of our love, reverence and devotion for the presence of Christ in the Holy Eucharist.
back