---
DIVINE MERCY SUNDAY
Sunday, April 19, 2020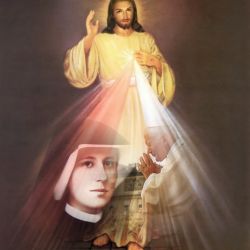 This Divine Mercy Sunday, you are encouraged to recite the Divine Mercy Chaplet in PRIVATE PRAYER contemplating the beautiful image of the Jesus, the "Apostle of Mercy". This image had long been revered in Vilnius (capital of Lithuania). It was Sister Faustina Kowalska, a young Polish nun and member of the Sisters of Our Lady of Mercy in Krakow, Poland who after her perpetual vows was sent to Vilnius. The young sister had numerous visions of Jesus and was directed to create an image and share with the world revelations of Jesus' love and mercy.
Under Sister Faustina's direction, painter Eugene Kazimierowski designed the original image with the signature: "Jesus, I trust in You". Throughout her life, Sister Faustina wrote a diary of her conversations with Jesus. This diary is called: "Divine Mercy in My Soul".
As a Cardinal, Karol Wojtyla heard of the great devotion the populace had to the image of Divine Mercy. Unfortunately, his predecessors questioned this devotion, Sister Faustina's visions, and the image of Jesus. When Cardinal Wojtyla became pope, he reignited the devotion to Jesus, the "Apostle of Mercy". On April 30, 2000, Pope John Paul II canonized Faustina Kowalska and officially designated the Sunday after Easter as Divine Mercy Sunday.
HOW TO PRAY THE CHAPLET OF DIVINE MERCY
Make the sign of the Cross

Say "Our Father"

Say "Hail Mary"

Say the "Apostles' Creed"

Say the "Eternal Father, I offer You the Body and Blood, Soul and Divinity of Your dearly beloved Son, Our Lord Jesus Christ, in atonement for our sins and those of the whole world".

Say 10 times: "For the sake of His sorrowful passion, have mercy on us and on the whole world".

Repeat #5 and #6 four more times.

After completing the five decades, say the following three times: "Holy God, Holy Mighty One, Holy Immortal One, have mercy on us and on the whole world".
back