---
Car Blessing on Sat., July 25 and Sun., July 26, 2020
Drive by blessing after the 4:0o pm Saturday Mass and the Noon Sunday Mass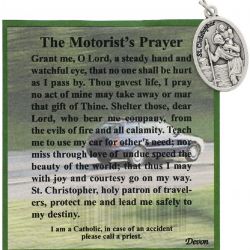 St. Stanislaus Bishop and Martyr Church, located on the corner of Peckham and Fillmore, Buffalo, New York, will be hosting a blessing for cars, motorcycles, bicycles, and other vehicles on Saturday, July 25, 2020, immediately following the 4:00 pm English Mass and on Sunday, July 26, 2020, following the 12:00 Noon Polish Radio Mass. Father Michal Czyzewski, Pastor, and Father Jan Kolmaga, Parochial Vicar, will ask God to intercede and keep the driver/operator and passengers of the vehicle safe and protected from all harm.
As people travel throughout the summer, St. Christopher, the patron saint of travelers, is asked to intervene. The name Christopher means one who carries Christ in Greek. Legend has it that Christopher carried an unknown child across a raging river. Later, that child revealed himself as Christ.
Join the St. Stanislaus Family in a socially distant drive-through car blessing. Proceed through the parking lot at the corner of Peckham and Fillmore, drive down Wilson Street to Paderewski, turn left on to Townsend, and then turn left on Peckham to the front of the church. We look forward to the opportunity to ask for divine intervention to protect and bless you and your family.
back