---
Mass Times
Saint Stanislaus B&M Church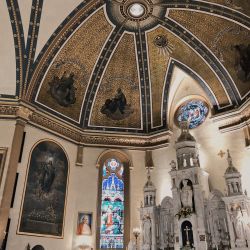 HOLY MASSES FOR THE EAST BUFFALO PARISH FAMILY
SATURDAY VIGIL - 4:00 PM, ST. STANISLAUS
4:00 PM, ST. JOHN GUALBERT
SUNDAY - 9:00 AM, ST. JOHN GUALBERT (POLISH)
9:15 AM, CORPUS CHRISTI
10:15 AM, ST. JOHN KANTY
10:30 AM, ST. KATHARINE DREXEL
11:45 AM, ST. JOHN GUALBERT
12:00 PM, ST. STANISLAUS (POLISH)
WEEKDAY MASSES
8:00 AM, MON., WED., FRI. - ST. STANISLAUS
8:00 AM, TUES., THURS. - ST. JOHN GUALBERT
8:30 AM, MON., WED., FRI. - ST. KATHARINE DREXEL
8:30 AM, TUES., THURS. - ST. JOHN KANTY
8:45 AM, MON., TUES., THURS., FRI. - CORPUS CHRISTI
12:15 PM, WED. - CORPUS CHRISTI
8:45 AM, FIRST SATURDAY - CORPUS CHRISTI
---
Holy Days of Obligation:
Holy Day Mass - 6:00 pm
---
Confessions
Saturday: 3:00 pm
Rosary: Sunday at 11:30 am prior to the 12:00 Noon Mass (Polish)
---
Marriages: Proper preparation for marriage requires a six month notice.
Please contact the rectory for an appointment.
---
Baptisms: Please call to make arrangements. Parents are required to receive orientation.
---
Ministry to the Sick: For those of advanced age, ill or hospitalized, call the rectory to arrange visitation.